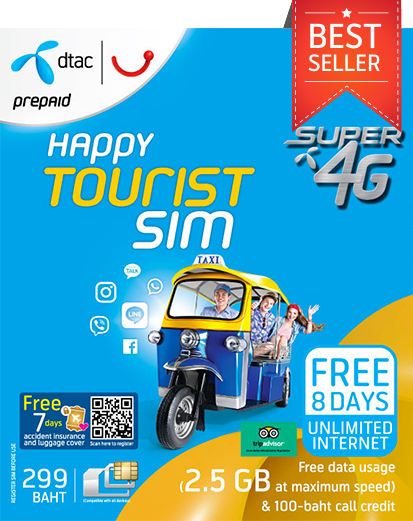 Happy Tourist 299
Free 8-day unlimited Internet (Maximum speed of up to 2.5 GB)
Free 100-baht call credit
Special international call rate via 00400
Buy Now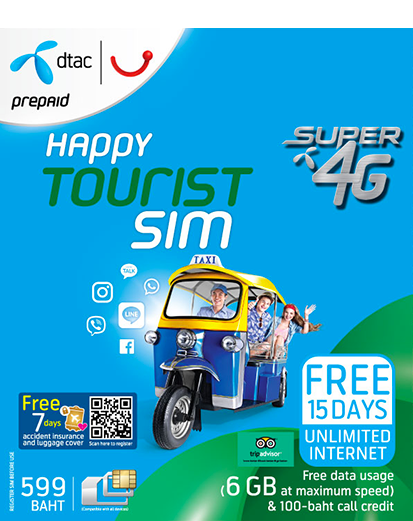 Happy Tourist 599
Free 15-day unlimited Internet (Maximum speed of up to 6 GB)
Free 100-baht call credit
Special international call rate via 00400
Buy Now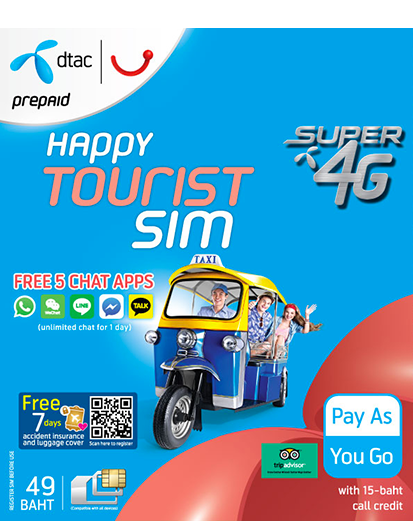 Happy Tourist 49
Free 15-baht call credit
Special international call rate via 00400
Design your plan with add-ons below
Free 5 applications for 1 day (Whatsapp, Wechat, Line, FB Messenger, Kakao Talk)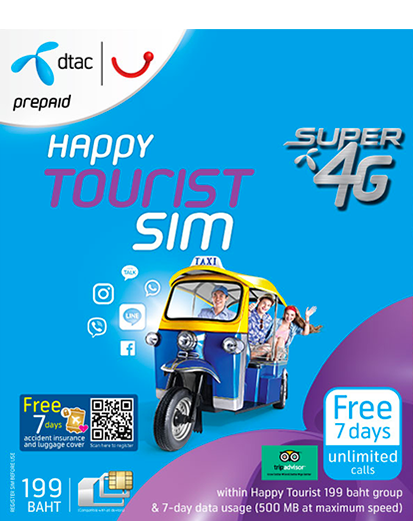 Happy Tourist 199
Free 7-day unlimited Internet (Maximum speed of up to 500 MB)
Free calls within Tourist SIM users
Special international call rate via 00400
- Call dtac numbers at 0.99 baht/min
- Call non-dtac numbers at 0.99 baht/min
- SMS at 3 baht/SMS/number
- MMS at 5 baht/MMS/number
- Internet at 2 baht/MB
00400
- Special international call rate starting at 1 baht/min. Click for more details.
Where to Buy Happy Tourist SIM?
Online
Click here to buy SIM card online and pick up at Suvarnabhumi Airport within 7 days.
Airports
*** All are 3-in-1 SIMs (Standard, Micro, Nano). ***
SIM cards are also available at major airports and convenient stores throughout Thailand. For more information, click here.
For safe and happy society, please REGISTER your SIM card as shown in this page.
Recommended add-on for Happy Tourist 49
229

baht /

3

days

Internet + Call

1 GB internet
Free 30-min call
Press *104*581*9#dial
699

baht /

20

days

Internet + Call

6 GB internet
Press *104*344*9#dial
299

baht /

10

days

Internet

2.5 GB internet
Press *104*353*9#dial
799

baht /

30

days

Internet

9 GB internet
Press *104*343*9#dial
*** Above rate excludes of 7%VAT. ***
Privileges
---