No Limit SIM


Continuous internet with unlimited calls all night all day
---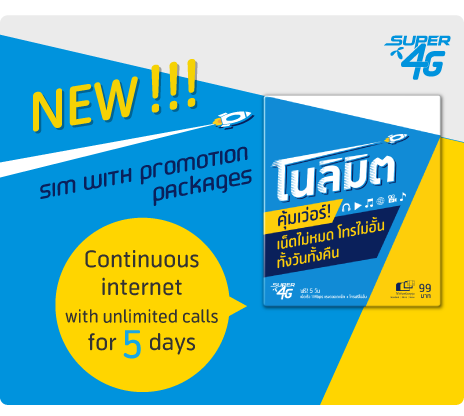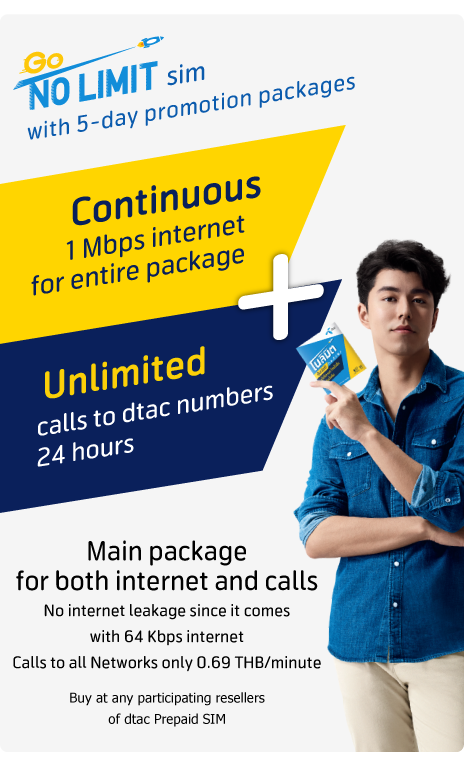 1 Mbps Unlimited internet for you to enjoy it with...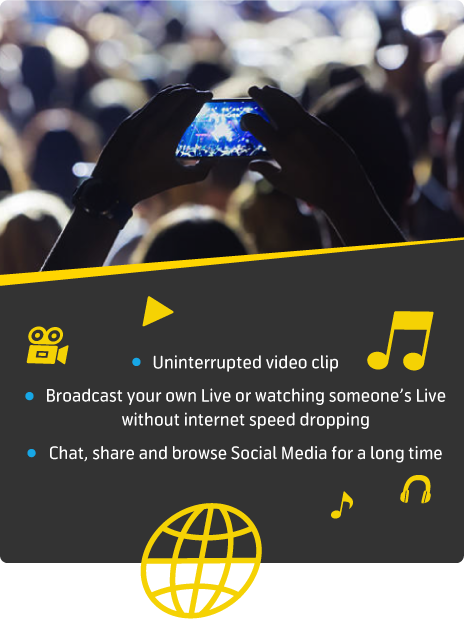 No Limit SIM 99 THB for new dtac Prepaid individual customers from today – 30 September 2017. Receive 15 THB free call privilege and 30 usage days. Customers will automatically receive service rates and privileges of No Limit main package per the following;
No Limit main package for new dtac Prepaid individual customers from today – 31 December 2017, service rates (excluded VAT 7%) are per the following;

Calls to all Network 0.69 THB/ minute (excludes VAT 7%) for 24 hours (remaining of minutes are round up to full minute)
3 THB per SMS per number and 3 THB per MMS per number
Free 64 Kbps speed internet for 12 months. Customers must have more than 0 THB balance and at least 1 day usage balance
Free 64 Kbps speed internet, not able to use Voice Over IP (VOIP) nor Video Call usage via other applications

Customers of No Limit SIM will entitle to additional Go No Limit promotion package for smooth video clip watching 1 Mbps speed for 5 days
When 5-day period is over, the Company will automatically renew weekly Go No Limit promotion package, unlimited internet maximum 1 Mbps speed usage value at 119 THB (excludes VAT 7%) for 7-day usage and the Company will automatically renew the package for 52 weeks. Applying number must have at least 1 day usage balance and sufficient money balance for package cost.
Usage privilege and service rates above apply upon the receival of confirmation SMS
Service fee rates above exclude international calls, roaming services, audio text, premium number service and other promotion services beyond the privilege mentioned above including other charges such as package change fee, Service Providers' download fees, etc. Customers must study terms and conditions of each Service Provider in full details before all service applications.
For Thai or Thai-with-English SMS, 70 characters are counted as one SMS. English SMS of 160 characters are counted as one SMS. In the case of SMS characters exceeding limits above, it will be counted as another new SMS. Recipients might receive single or separate SMS, depending on receiving device's capability. For symbols or special characters, character counts will be calculated differently due to system technical limitations.
Customers can check package usage and service balance via the following channels;

Express service *101*1# for Thai and *101*1*9# for English (free of charge)
1678 dtac call center (3 THB service charge per time, inclusive of VAT 7%)
dtac customer service center

dtac internet service with EDGE/3G/4G technology is brought by Service Provider for convenience of Network customers. The service may have some limitations in certain locations or certain periods of time. The speed of 3G/4G technology usage depends on service area, number of service users, connecting devices and the set-up of devices, which means each time service is not always with the continuous maximum speed. The movement of connecting devices might also temporarily affect data transmission and data transmission technology. Customers are encouraged to study usage instructions in full details.
Customers apply to promotion package will receive the following dtac internet privilege per the following details;

For personal usage only. Not for commercial usage purpose such as usage for internet café, game center or call center. Not for reselling/ rental purpose for profit or huge and continuous information transfer that effect other customers such as usage for bittorrent or usage with electronic devices that need to connect for continuous huge data size.
In case of the Company finds out or suspects that customers are downloading and/or uploading huge size files or any other usage with huge and continuous information transfer out of normal personal usage manner, using service in the manners that effect service provided or generate unfairness, creating damages, or effect other customers' usage and/or Network or overall Company's service providing experience, the Company has the right to appropriately manage the Network to maintain overall service level and help overall customers for most effective usage. The Company can adjust package or limit customer usage and/or mobile internet speed as deem appropriate. In this incident, the Company might reduce service speed lower than specified in the package details.
The Company reserves the right for Hotspot internet usage or internet sharing to other devices. The Company has the right to limit usage, determine the number of sharing devices and/or determine appropriate maximum sharing speed.
The right to use EDGE/3G/4G technology will be based on the number of privileged customers, including all services in and outside the EDGE/3G/4G service area.
Service Provider reserves the right to manage the volume and speed of data transmission, log-in or connection to the internet service for fairness, equality and efficiency of telecommunication networks management.
Service Provider does not encourage or is related to the case of customers using dtac wifi services in violation of laws or terms of service in any form. If Service Provider finds out or has received complaints on such actions, the Service Provider reserves the right to immediately terminate service provided without prior notice.

This promotion is intended for personal use between mobile phones only. Customers are prohibited from using this promotion as a voice over IP service (VoIP). If found that there is the use for commercial purpose or access internet in the manners that are in conflicts of law or in violation of public order, service provider holds the right to cancel the service and revoke the service privilege. Service provider will collect usage fee according to normal rate per each billing cycle usage.
The Company reserves the right for internet usage if found that there is usage that could affect overall Network usage. This service is not allowed for bittorrent usage, hotspot or transfer of huge size data than normal usage that could effect overall Network and commercial usage.
Customers are encouraged to study terms and conditions, service rate fees, settings and internet service area for usage convenience. The speed of dtac internet usage depends on service time period and density of service users, including the quality of connecting devices. In the case of data roaming service usage, service rate fees will depend on foreign Service Providers.
The Service Provider reserves the right to adjust this promotion including terms and conditions without prior notice. Such changes will be considered that customers are acknowledged and willing to comply once there is a notification via Service Provider's website or any other communication channel. Customers can additionally study terms and conditions at 1678 dtac call center (3 baht per call includes 7% VAT).
In case of customers changing to other VAS packages or switch to Postpaid system, this will be deemed as terminating current VAS packages. At the time of VAS packages expiration, customers' service rates will be adjusted per Company's policy. Customers can alternatively choose other promotion packages available at the time being.
New customers must register for service users database and provide supporting evidence as required by Service Provider before requesting new SIM car or privilege application or VAS package application. The Company reserves the right to suspend or revoke the services if found that customers are yet to register for service users database.
Customers are willing for Service Provider to access and analyze recorded personal data given in smart card ID and other information that customers provided, for the purpose of communication business benefits and VAS and promotions. Service Provider or the Company will also be able to reveal, transfer and share customers' personal data for external agencies both domestic and international for the aforementioned purposes.
Customers must remain the usage under Thailand Computer Related Crime Act B.E. 2550. SMS, MMS or Happy internet VAS users must refrain from the use or allowing others to use it for commercial purpose, profanity and nudity, in conflicts of law or any other legal and contract terms, in violation of personal rights, slanders, use the service in a manner that contributes to technical and service defects to other customers or Network Providers. If violated, Service Provider holds the right to immediately cancel the service and service users must be solely responsible to all potential legal implications.
Service provided by dtac TriNet Co. Ltd., 319 Chamchuri Square Building, 28th Floor, Payathai Road, Pathumwan, Bangkok 10330. Tax ID 0105549034548.