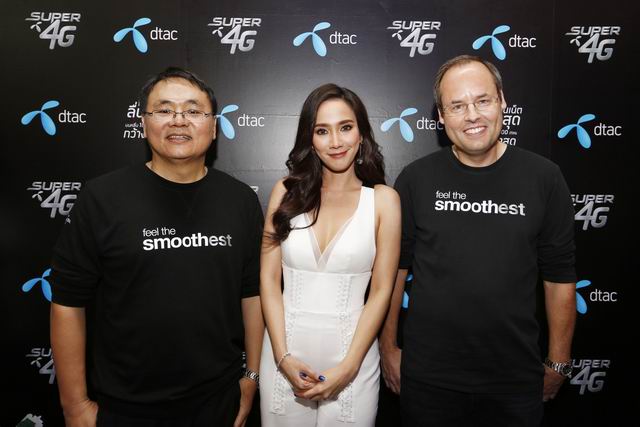 dtac Super 4G invites customers to enjoy the smooth network on the widest 1800 MHz with 20 MHz bandwidth nationwide
Newly launched commercial featuring "Aum Patcharapa"and smooth 4G experience is well received by customers
dtac continues to elevate customer experience on all popular applications with growing demands
dtac enhances digital experience with its Super 4G on the widest bandwidth of 20 MHz on the 1800 MHz frequency band, the 4G world class single-carrier frequency, to meet all mobile lifestyle needs and "Never Off-line" trend and deliver the smoothest digital experience on all models and brands of 4G enabled smartphones. dtac continues to invest in network expansion and base station installations in Bangkok and upcountry and has recently launched a new TV commercial "Smoothest," which features A-list star Patcharapa "Aum" Chaichue, reinforcing a smooth 4G experience with "dtac Super 4G" nationwide to boost customer confidence in dtac's network and mobile internet service.
Mr. Lars Norling, Chief Executive Officer, Total Access Communication PLC or dtac, said, "Last year we saw changes in mobile internet usage behavior. The high growth in 4G was driven by applications, such as Facebook's new VDO and Live streaming, resulted in 150% growth in data consumption YoY. While VoIP (voice over internet protocol) or calls over the internet also grew 200% YoY. Moreover, the growing data consumption was also reflected from double usage on Youtube and 150% increase in music streaming adoption over the last 6 months.
As a result, the demand for smooth application experience has significantly increased. Last year, dtac continued its huge and rapid network expansion with the installation of more than 15,000 Super 4G base stations or 240% increase YOY nationwide. Additionally, cellular signal boosters were installed in more than 200 buildings across Thailand. dtac aims to continually expand its 4G network coverage across the nation by a further 25%, including 1,000 buildings by 2020, reinforcing a smooth Super 4G experience on the widest bandwidth of 20 MHz on the 1800 MHz frequency band, currently available in all 77 provinces.
Mr. Prathet Tankuranun, Chief Technology Officer, Total Access Communication PLC or dtac, said, "To enrich consumer mobility lifestyle, dtac is committed to constantly improving Super 4G signal and using modern communication technology to bring new mobile experience for our customers. dtac is the first mobile operator in Thailand to launch WiFi Calling service to create a boundless mobility life by allowing customers to make a call on WiFi network from anywhere in the world with crystal clear voice quality and the same charge as making a call locally in Thailand."
In addition to speed and performance, which are common foundation of every mobile operator, dtac also focuses on continuous service improvement to meet consumers' "Never Off-line" demands and provide the best and smoothest digital experience. dtac has partnered with Ericsson and Facebook to improve application experience through Application Optimization, which analyzes application usage in all practical situations.
As part of the project, data is collected from Facebook users on dtac network in Bangkok and other high density areas by specifically designed devices and then analyzed and used to adjust and optimize the experience for all dtac customers, which results in 60% improved experience on Facebook application.
13-34% improvement during peak time from 19:00 – 21:00 hrs.
54% faster application launch and time-to-content
63% improvement in photo sharing
60% improvement in photo upload and download speeds
"In preparation for the growing Live and VDO Streaming demands in 2017, dtac will forge ahead to double the capacity of Facebook usage, especially optimizing application, resulting in a smoother VDO streaming and Facebook Live. Thanks to the state of art technology, it enables dtac to lift its service quality by increasing its application capacity by 50% this year from 35% last year, making a smoother application usage.
Lastly, to reinforce the smooth experience with "dtac Super 4G: Smoothest and Widest," dtac last week launched a new TV commercial "Smoothest," which has been well received and become a phenomenon, introducing a superstar "Patcharapa Aum Chaichue" in a fresh and unique look presenting a casual lifestyle and smooth digital experience. "Aum and dtac Super 4G: Smoothest and Widest" will be featured in various media channels, such as out-of-home media, points of purchase (POP), and roadshows, to give customers across Thailand an opportunity to experience the smooth 4G from dtac.