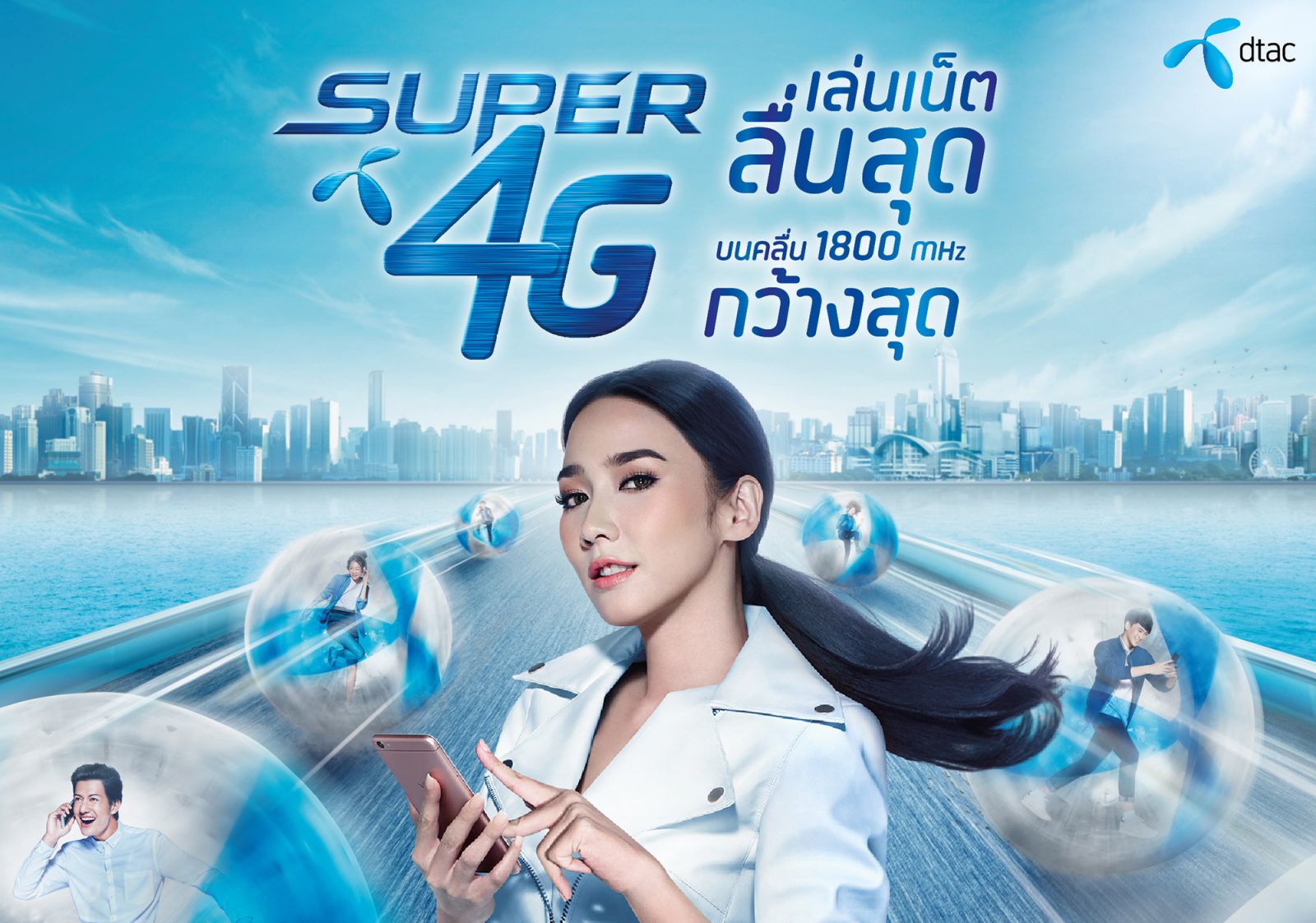 dtac creates the SMOOTHEST phenomenon
Introducing Patcharapa "Aum" Chaichue, reflecting Super 4G, the widest 4G and smoothest experience
dtac has launched its new phenomenon, introducing the A-list star Patcharapa "Aum" Chaichue as a presenter for the first time of 27 years running business in Thailand, reinforcing a smooth 4G experience with dtac Super 4G on the widest frequency band of 20 MHz. This is to offer a smoother digital lifestyle on every application.
Mr. Lars Norling, Chief Executive Officer of Total Access Communication PLC or dtac, said, "dtac embarks its marketing strategy by introducing the new experience of dtac Super 4G, with A list Patcharapa "Aum" Chaichue as our presenter to showcase the smoothest 4G experience. She will appear in our TV commercial and digital media which will debut nationwide today (January 10, 2017) from 7pm onward."
dtac responds to the needs of customers use by communicating directly with its target group. Patcharapa "Aum" Chaichue is chosen as the presenter thanks to her popularity in Thailand. She will illustrate the unique points of dtac Super 4G, which is compatible with every 4G smartphone in the market. dtac customers can experience the smoothest 4G experience, offering a better experience on any application.
dtac is also the first 4G service provider in Thailand offering 4G Calling VoLTE and WiFi Calling or VoWiFi (Voice over WiFi) which allows dtac users to make and receive calls from anywhere around the world by using dtac WiFi. The aim is to offer a 4G experience for every digital lifestyle.
"dtac continues assuring its customers by offering new experiences through 4G technology and marketing communication includes investing 4G bases stations nationwide and upgrading internet speed for smartphone users. These are for our dtac customers to experience faster internet and smoother application usage." Mr. Lars adds.
________________________________
Click to view dtac television commercial starring Aum Patcharapa Chaichue.
https://youtu.be/e00FRLS75Ho
Dancing fingers
Synopsis:
A smoother and uninterrupted internet surfing experience from dtac Super 4G in the country's widest 1800 MHz bandwidth.
It's so smooth that fingers start to dance, just like the experience of Thai superstar Aum Patcharapa.
You'll observe Aum Patcharapa in a look you've never seen before. While relaxing, Aum uses her smartphone on dtac Super 4G.
An incredibly smooth digital world captures her, powering her fingers to swipe left then right, scrolling and sliding around social network so fast her fingers are doing a dance!!!
Use dtac and prepare for smooth dancing fingers just like Aum!
dtac super 4G,Wider,Smoother, Enjoy more.