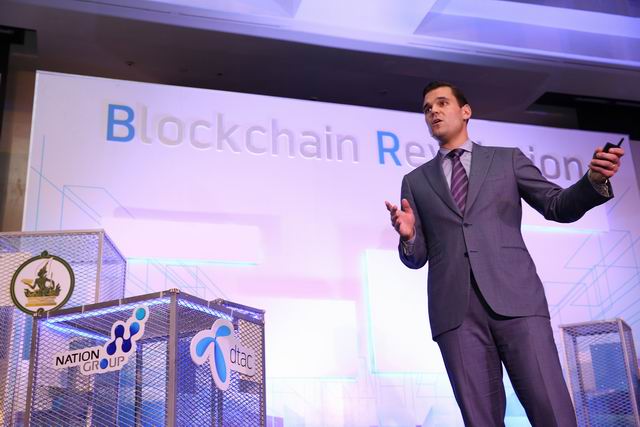 dtac underlines "Blockchain" to drive Thailand's sustainable digital economy growth
Blockchain expert "Alex Tapscott" invited to join seminar
All sectors urged to prepare for "Blockchain" leading the revolution of Thailand's digital innovation
dtac continues to support Thailand's digital economy strategy and build on its drive to become Thailand's leading digital brand by 2020 by adopting "Blockchain" technology to help advance Thailand to global level. Alex Tapscott, the co-author of "Bloockchain Revolution" is invited by dtac to join the seminar organized to prepare the Thai's government, public and private sectors, and the people for the upcoming disruptive technology that will revolutionize all areas of business. dtac is also determined to support the development of Thailand towards the digital economy, leaving no one behind.
Mr. Lars Norling, Chief Executive Officer, Total Access Communication PLC (dtac) said, "Blockchain is a disruptive technology that will drive the development of digital economy, not only for Thailand but also other countries around the world. Blockchain will not only transform the world of business and financial services, but also elevate and improve the quality of people's lives in the same way as the online world has impacted the society. Although blockchain technology is still young and a few years away from being widely adopted, to avoid disruptive surprises or missed opportunities, strategists, planners and policymakers in the telecom industry should be aware of the influence of this disruptive technology on the telecom ecosystem in the near future. Therefore, early familiarity with related opportunities and challenges will position us better to gain advantages when the technology is mature and ready for wider commercial operation.
The average mobile data usage per person of dtac subscribers has increased almost 200% from October 2014 to October 2016. According to the list of top 20 countries with the most Internet usage growth reported by www.internetworldstats.com in June 2016, Thailand, a country with 68.2 million population, was ranked 19th with over 41 million Internet users, increasing 1682.6% from the period of 2000 to 2016, reflecting a rapid development towards digital in Thailand.
However, Thailand's telecom industry will be facing a big hurdle with the rise of these technologies. A huge amount of big data will be emerged from the upcoming digital disruptive technology, including 5G and Internet of Things, which are the world's top digital trends over the next 3 years.
"As a telecom provider in Thailand, dtac has set our goal to become Thailand's number one digital brand by 2020. Our journey will be the key to the development of Thailand's telecommunications industry. Blockchain has the potential to transform all kinds of businesses in Thailand and contribute to the country's growth through disruptive technology, aligning with the government's Thailand 4.0 development model that aims to improve incomes, quality of life, and sustainability as well as to establish digital access and reduce inequalities in the society. The government, public sector, publicly-listed companies, private companies, small businesses, farmers, and people must work and move forward together, leaving no one behind," said Norling.
To inspire interest and increase the readiness for blockchain in all sectors, dtac joins hands with the Ministry of Digital Economy and Society (DE), the NBTC, and Nation Group to organize a year-end pivotal seminar "Blockchain Revolution" featuring a world-renowned expert "Alex Tapscott" – the co-author with Don Tapscott of the popular book "Blockchain Revolution: How the Technology Behind Bitcoin is Changing Money, Business, and the World." Alex is the CEO and Founder of Northwest Passage Ventures, a VC firm that invests in companies in the blockchain market for seven years in the Canadian and U.S. Capital markets. Alex is one of the world's leading and most admired blockchain experts.
Thailand's journey towards a sustainable digital economy requires support from all sectors in using new technologies such as "Blockchain" to drive and create competitive advantage. The government plays a key role in setting policy and strategy, focusing on promoting and developing business creation and eliminating obstacles in order to maximize benefits to the people and establish a digital infrastructure and spectrum development strategy, leading to sustainable development of Thailand.