SELECT YOUR REWARD FOR SWITCHING TO dtac
Guarantee
no access charges
Worry Free
20

GB

unlimited max speed
150

mins

Free call to all networks
Worry Free
30

GB

unlimited max speed
300

mins

Free call to all networks
Worry Free
40

GB

unlimited max speed
1000

mins

Free call to all networks

Non stop internet packages, the unused internet
can be rolled over to the next month.
Or super save voice or internet packages
per your selection.
Unlimited dtac wifi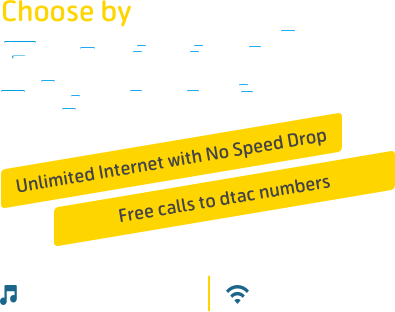 Smart Easy
512

Kbps

unlimited max speed
69

satang/min

call to all networks
Smart Easy
10฿/day
฿ 299/ month
non-stop & no speed drop
1

Mbps

unlimited max speed
Unlimited
free call to dtac number
TERMS & CONDITIONS
Terms and Conditions of Super Non-Stop packages for MNP customers.
Switch-to-dtac with same numbers customers can apply to Super Non-Stop promotion from today until 31 December 2018.
Super Non-Stop service rate fees (exclude VAT 7%).
The dtac internet service with EDGE/3G/4G technology is brought by Service Provider for convenience of Network customers. The service may have some limitations in certain locations or certain periods of time. The speed of 3G/4G technology usage depends on service area, number of service users, connecting devices and the set-up of devices, which means each time service is not always with the continuous maximum speed. The movement of connecting devices might also temporarily affect data transmission and data transmission technology. Customers are encouraged to study usage instructions in full details.
Special dtac internet privilege for Super Non-Stop package to get Roll over dtac internet remaining to next 1 month.
For customers who change or cancel this promotion during a billing cycle, the special dtac internet Roll over privilege for next month will be expired.
The right to use 3G/4G technology will be based on the number of privileged customers, including all services in and outside the 3G/4G service area.
Service Provider reserves the right to manage the volume and speed of data transmission, log-in or connection to the internet service for fairness, equality and efficiency of telecommunication networks management.
Service Provider does not encourage or is related to the case of customers using internet services in violation of laws or terms of service in any form. If Service Provider finds out or has received complaints on such actions, the Service Provider reserves the right to immediately terminate service provided without prior notice.
International usage of dtac internet VAS will be charged according to each destination country.
Rates above exclude international calls, roaming services, audio text service, premium number service and other promotion services beyond the privilege mentioned above and other fees such as packaging switching fee, downloading service via corresponding service providers. If customers would like to apply for other VAS or downloading services customers must clearly study terms and conditions of each service provider prior to applications.
Unused free calls right and free dtac internet VAS are not able to carry over to next billing cycle and are not refundable or for cash transfer.
The right above only applies for domestic usage only. Service rate fees above are excluded of VAT 7%.
The right for dtac internet service above is the usage right for EDGE/3G/4G technology only.
Thai or Thai-with-English SMS, 70 characters are counted as one SMS. English SMS of 160 characters are counted as one SMS. In the case of SMS characters exceeding limits above, it will be counted as another new SMS. Recipients might receive single or separate SMS, depending on receiving device's capability. For symbols or special characters, character counts will be calculated differently due to system technical limitations.
For customers who apply or cancel this promotion during a billing cycle, the Company will calculate service fees according to this promotion details and usage period of that billing cycle.
For current customers who would like to apply for this promotion, they must hold active service status and not in temporary suspended service status.
Check your calling minutes, SMS, MMS and dtac internet balance via the following channels;

Minute used *121*1# or automated phone service *1888 press 2 (free of charge).
Internet VAS balance, press *101*4*9#dial.
1678 dtac call center (3 baht per call, excluding VAT 7%)

Customers are encouraged to study terms and conditions, service rate fees, settings, internet service area for usage convenience. The speed of dtac internet usage depends on service time period and density of service users, including the quality of connecting devices. In the case of data roaming service, service rate fees will depend on Foreign Service providers.
This promotion is intended for personal use between mobile phones only. Customers are prohibited from using this promotion as a voice over IP service (VoIP). If found that there is the use for commercial purpose or access internet in the manners that are in conflicts of law or in violation of public order, service provider holds the right to cancel the service and revoke the service privilege. Service provider will collect usage fee according to normal rate per each billing cycle usage.
This promotion is under service provider's terms and conditions. Customers must additionally study terms and conditions before service application at 1678 dtac call center (3 baht per call excluding 7% VAT). The Company reserves the right to cancel and/or adjust this promotion as deemed appropriate and will communicate in case of any changes.
Customers applying for Super Non-Stop Series package will be considered as willing to be transferred your account (and all usage information) to new 2.1 GHz Frequency Service under dtac TriNet Co. Ltd.
Service provided by dtac TriNet Co. Ltd., 319 Chamchuri Square Building, 28th Floor, Payathai Road, Pathumwan, Bangkok 10330. Tax registration ID 0105549034548.


Time is running out
Special price for
network switching customers
92% OFF

Vivo Y53c

4,890

Starts from 390.-

Move to dtac Terms and Conditions

92% OFF

Samsung Galaxy J7 Core

5,990

Starts from 490.-

Move to dtac Terms and Conditions

70% OFF

Huawei Y7 Pro 2018

4,990

Starts from 1,490.-

Move to dtac Terms and Conditions

78% OFF

Sony Xperia L2

6,990

Starts from 1,490.-

Move to dtac Terms and Conditions

66% OFF

Vivo Y71

5,990

Starts from 1,990.-

Move to dtac Terms and Conditions

82% OFF

iPhone 6 32GB

11,500

Starts from 2,000.-

Move to dtac Terms and Conditions

73% OFF

Samsung Galaxy J7 Pro

8,900

Starts from 2,400.-

Move to dtac Terms and Conditions

72% OFF

Huawei Nova 2i

8,990

Starts from 2,490.-

Move to dtac Terms and Conditions

56% OFF

Vivo V7

7,999

Starts from 3,490.-

Move to dtac Terms and Conditions

40% OFF

OPPO F7

10,990

Starts from 6,490.-

Move to dtac Terms and Conditions

32% OFF

Samsung Galaxy A8

13,990

Starts from 9,490.-

Move to dtac Terms and Conditions

56% OFF

iPhone 6s Plus 32GB

22,500

Starts from 10,000.-

Move to dtac Terms and Conditions

48% OFF

Samsung Galaxy S8

23,900

Starts from 12,400.-

Move to dtac Terms and Conditions

27% OFF

Huawei P20

19,990

Starts from 14,490.-

Move to dtac Terms and Conditions

39% OFF

iPhone 8 64GB

29,000

Starts from 17,500.-

Move to dtac Terms and Conditions

34% OFF

Samsung Galaxy S9 64GB

27,900

Starts from 18,400.-

Move to dtac Terms and Conditions

33% OFF

Huawei Mate 10 Pro

27,900

Starts from 18,490.-

Move to dtac Terms and Conditions

21% OFF

Sony Xperia XZ2

25,990

Starts from 20,490.-

Move to dtac Terms and Conditions

34% OFF

iPhone 8 Plus 64GB

33,000

Starts from 21,500.-

Move to dtac Terms and Conditions

37% OFF

iPhone 8 256GB

35,000

Starts from 22,000.-

Move to dtac Terms and Conditions

29% OFF

Samsung Galaxy S9+ 64GB

31,900

Starts from 22,400.-

Move to dtac Terms and Conditions

19% OFF

Huawei P20 Pro

27,990

Starts from 22,490.-

Move to dtac Terms and Conditions

30% OFF

Samsung Galaxy S9+ 256GB

37,900

Starts from 26,400.-

Move to dtac Terms and Conditions

29% OFF

iPhone 8 Plus 256GB

39,000

Starts from 27,500.-

Move to dtac Terms and Conditions

28% OFF

iPhone X 64GB

41,000

Starts from 25,500.-

Move to dtac Terms and Conditions