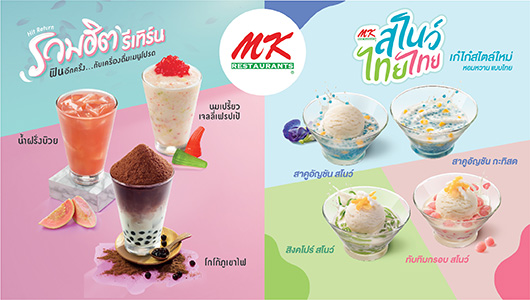 MK Restaurants
22 Aug 2019 - 24 Nov 2019



Get 20 baht discount on Snow Thai Thai from maximum 69 baht regular price or 15 baht discount on Hit re-trend drink from maximum 59 baht regular price at MK Restaurants
Sakoo unchan from 59 baht
Sakoo unchan Snow from 69 baht
Singapore Snow from 69 baht
Tumtim Kob Snow from 69 baht
Hit re-trend beverage
Guava drink from 39 baht
Coco from 49 baht
Jelly frappe from 59 baht
At MK Restaurants nationwide except MK Gold and MK Live
Terms and Conditions



This privilege is eligible for dtac prepaid and dtac customers whose status are SILVER MEMBER, GOLD MEMBER and BLUE MEMBER.
Get a privilege by pressing USSD at participating branches only.
Limit to 1 number / privilege / month / all menu.
Get 20 baht discount on Snow Thai Thai from maximum 69 baht limit to 9,000 privileges /week.
Get 15 baht discount on Hit Re-trend beverage from maximum 59 baht limit to 13,000 privileges / week.
This privilege cannot be used with MK member card, Birthday Coupon and Discount Coupon from MK member card.
Available at MK Restaurants all branches except MK Gold and MK Live.
Get this privilege by pressing USSD or redeem via dtac application and follow the instruction of the staff at the point of purchase.
The service provider reserves the right to decline any screen capture or dishonesty.
Employees under MK Restaurants group cannot participating in this campaign.
Drink and container in the picture used for advertising purpose only.
Terms and conditions are subject to change without prior notice.
Picture of the food used for advertising purpose only.