Usage period

Minimum monthly service fee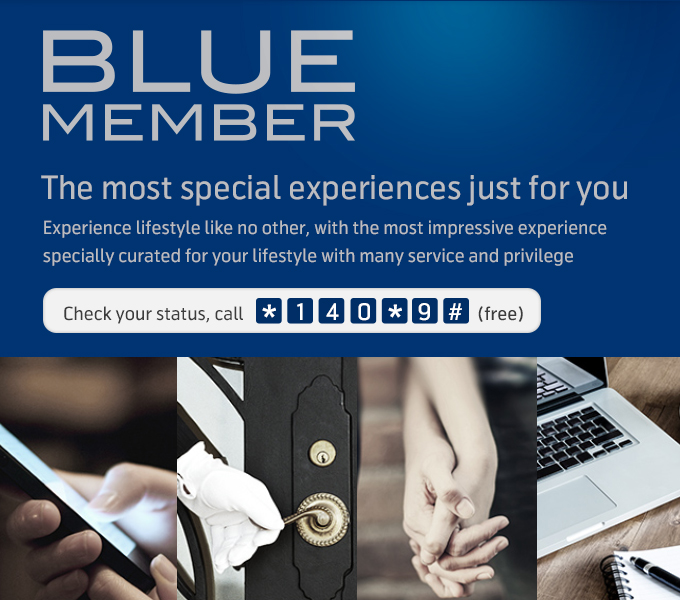 dtac reward BLUE MEMBER privileges list
BLUE DEVICE
Privileges of special device offerings and services
Device Expert team is ready to offer consultation on mobile phones and other devices regarding usage and instructions. You can receive our service from BLUE MEMBER SERVICE @*1806 or at any dtac hall nationwide.
Basic usage service
Cloud Service instructions and usage setting service
Google Account / Apple ID registration service
Application downloading information service such as LINE, Facebook
Email setting service
Etc.
BLUE ACCESS
Blue Access provides you with privilege of comfort and convenience to retain you as our priority. Experience the special services, such as priority access to dtac hall services and entertainment events.
BLUE MEMBER Assistant *1806 press 77 (free of charge)
Personal concierge service for advice and to address all problems you have related to usage, device, signal or internet for 24-hour period.
Bill Statement & Balance Enquiry

statement and balance credit checking services

Package Advisory

counsel, advise, choosing and changing call and internet packages or international packages for your most appropriate needs

Device Personal Assistant

counsel and advise for device choosing, new device booking, settings and all usage problems.
Note
for BLUE MEMBER customers from promotion packages, your privilege will be active upon confirmation SMS within 7 working days
Blue Member service @ dtac hall
Blue Member provides priority access for BLUE MEMBER customers which provide easier and faster services at dtac hall. To receive the express service, dial BLUE MEMBER phone number at BLUE MEMBER queue ticket machine.
Blue Member provides priority access to participate in all selected entertainment activities which designed specifically for your distinctive lifestyles.
Receive ticket discounts for leading local and international concerts along with many other special entertainment events exclusively selected via www.thaiticketmajor.com
Receive movie premiere privilege at Emprive Cineclub and SF First Class.
Receive priority updates on digital content and music streaming.
Condition
Members can follow activity participation via various communication channels.
Reserve the right on first-come-first-serve basis (limited availability)
Conditions are according to company's determination
Access to information, news, and investment tips from leading investment gurus with financial planning and portfolio management tools.
Receive priority for special seminars and FINNOMENA marketing activities before anyone else.
BLUE CARE
24-hour caring privilege
Protection and coverage privilege for your peace of mind, anywhere
BLUE LIFESTYLE
Blue Lifestyle provides privileges from all leading business partners for all your preferred lifestyles.
Ready for all your choices of your preferred lifestyles whether it be dining, beauty, travel, or entertainment services.
you are eligible for GOLD MEMBER, SILVER MEMBER
and all dtac customers privileges
click to see privilege
Check privileges from more than 25,000 retails click
or simply download dtac

app

here for many retail privileges and easily check your status